PLATFORM:
iPhone, iPad, iPod Touch, Android
DEVELOPER:
ClutchPlay Games, LLC
GENRE:
Action-based Platformer
PRICING & BUY LINKS:
DESCRIPTION
Official Selection,
2013 PAX East Indie Showcase
.
"Little Chomp came out of nowhere and charmed me with its smooth controls, variety of fun goals to check off, and absolutely vibrant graphics and crisp audio. " -
Touch Arcade
(4.5/5)
"Little Chomp is an expertly tuned touchscreen climber that is not to be missed." -
IGN
(8/10)
"An addictive gaming experience." -
App Safari
(4/5)
"What is particularly likable about [Little Chomp] is the ever-changing challenges that each level brings." -
Game Trender
---
The Chompwood Kingdom is loaded with fruit, but it's going to take a daring caterpillar named LITTLE CHOMP to get it!
One part classic platformer, one part physics puzzler, Little Chomp challenges you to brave three unique worlds in a quest to chomp the tastiest fruit and collect the rarest butterflies. Take aim, fling from leaf to leaf, spring off mushrooms, collect all the loot and solve every challenge, all while dodging dangerous enemies in this fast-paced touchscreen climber!
Little caterpillar. Big challenge.
KEY FEATURES
Exciting, fast-paced gameplay!
Three magical worlds with over 50 fun and challenging levels.
Over 100 unique butterflies to create by feeding the hungry caterpillars of Chompwood Kingdom!
Three skill challenges on every level to unlock extra fruit and bragging rights!
Apple GameCenter leaderboards, Amazon GameCircle leaderboards, over 40 achievements!
Challenging new Chompwood Arcade continuous-play mode!
WHAT'S NEW IN VERSION 1.5
For experienced Little Chomp players, and anyone who loves a challenge, test your mettle in the brand new Chompwood Arcade! Climb your way up three new leaderboards in a challenging new continuous play mode! Race the clock and stay alive for the highest score in the Chompwood Kingdom!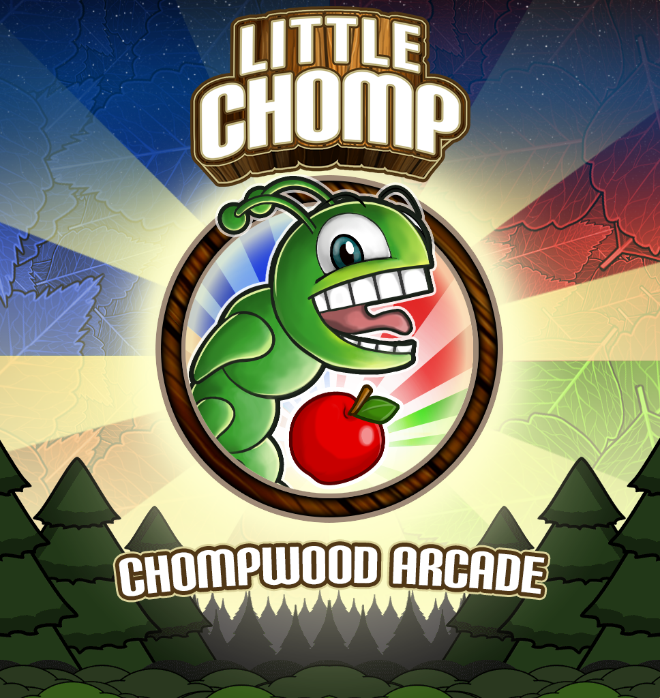 THE DEVELOPER
The ClutchPlay Games team are remnants of
Stumptown Game Machine
, formerly the Portland Studio of ngmoco. After their studio was closed, they were four unemployed game developers with the desire to rebuild their studio and make great original games. They didn't have VC, angel investors, or funding of any kind. What they did have was an idea for a game that became Little Chomp, lots of experience, some savings, and the grit to make it happen. Within their first year of operation, they had developed a proprietary cross-platform game engine and launched Little Chomp on iOS and Android to great critical success.
Prior to starting ClutchPlay Games, this team of industry veterans worked on a number of high profile mobile, console, and PC tiles including The Sims 2.0, The Sims Online, Mass Effect, Tiger Woods PGA Tour '02-'05, Zoo Tycoon 2, Brothers In Arms, We Rule, NBA 2K10, 2K11, 2K10 Draft Combine, Quests & Sorcery: Skyfall, and Touch Pets Dogs, Cats, and Dogs 2.
For more information,
contact Amy Dallas
.
CREDITS
Amy Dallas - Production / Business Development / QA
Bernie Rissmiller - Engineering
John C. Worsley - Engineering / Art / Design / Audio and Music
Jon Guest - Engineering
TRIVIA AND MINUTIAE
Number of levels: 54 levels in total
The world names: Chompwood Forest, Chompberry Patch, Sweet Chomp Isle.
Number of fruit types that can be collected: 15
Number of available Powerups: Six
Number of different enemies: Sixteen. (8 regular enemies and 8 red enemies which cause double the damage.
Enemy Types: Ornery birds, angry bees, inquisitive beetles, sticky tongued frogs, nut-chucking squirrels, venomous spiders, dive-bombing bats, and quick-striking snakes.)
Number of butterflies to create: One hundred and eight
Original release on iPhone, iPod touch and iPad : October 2012
Original release on Android Platform: February 2013
The game was developed in ClutchPlay's proprietary cross-platform engine and editing tool
TRAILERS
ARCADE SCREENS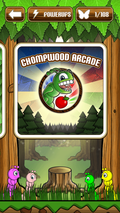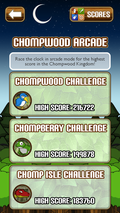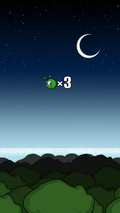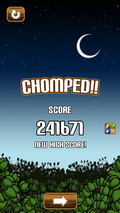 ORIGINAL MODE SCREENS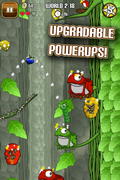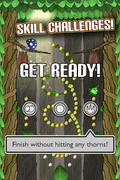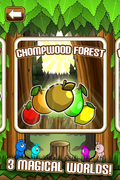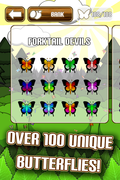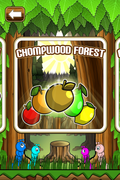 MUSIC